AAAH! REPLY INSTEAD OF WTF
Before you wonder, get angry or hate us - please check our FAQ. We have tried to give clear answers to the most common questions. If this is not enough for you or you just prefer to ask us your questions directly, just write us via contact form. Happy to help!
WRITE US
At a glance
All orders placed before 14:00 will be shipped the same day.
You will automatically receive a tracking number in your
E-Mail once your package has been shipped. 
With this you can check the delivery status on the delivery website. 
Frequently Asked Questions
MIGO offers adult smokers an alternative to the traditional cigarette. The team behind MIGO has more than 18 years of combined experience in the electronic cigarette market.
What is vaping / electronic smoking?

An e-cigarette (electronic cigarette) vaporizes a liquid containing a mixture of flavorings and other substances. The liquid (also called e-liquid) is heated to produce vapor that users can inhale. The liquid does not contain tobacco, like a regular cigarette, but often contains nicotine.
What is E-Liquid made of?

MIGO's E-Liquid consists of 4 main ingredients: 50% PG (propylene glycol), 50% VG (vegetable glycerin), flavorings and nicotine. 

Propylene Glycol (PG)
This is a colorless, almost odorless, clear, viscous (slightly viscous) liquid with a slightly sweet taste. Propylene glycol is a liquid found in many foods and as a type of humectant and sweetener in, for example, cosmetics, toothpaste and medicines. Propylene glycol is classified as non-toxic (non-carcinogenic) by the World Health Organization. The E-number of propylene glycol is E1520.

Vegetable glycerin (VG)
Vegetable glycerin is also a colorless, slightly viscous liquid and usually consists of a mixture of 80% glycerin and 20% water. Glycerin is a liquid with a high viscosity and a sweet taste. Glycerin already occurs naturally in the human body and is used in the food industry as a sweetener, including in candy, pastries, and margarine. Glycerin is also found in pharmaceutical products such as cough syrup and suppositories, or in personal care products such as toothpaste and mouthwash. Glycerin is an approved, non-toxic substance and is often referred to as E422.

Flavorings
The flavor of e-liquid is achieved by adding flavors to the base ingredients propylene glycol (PG) and vegetable glycerin (VG). These flavors have also been used in the food industry for many years.

Nicotine
MIGO uses nicotine salts (also called "Nic Salt"). Nicotine salt is the natural form of nicotine, as it is found in tobacco leaves. It consists not only of nicotine, but is also combined with another organic element (benzoic acid) to form a stable molecule. Unlike freebase nicotine, it is not bound to other elements.

MIGO uses nicotine salts (also called "Nic Salt"). Nicotine salt is the natural form of nicotine, as it is also found in tobacco leaves. It consists not only of nicotine, but is also combined with another organic element (benzoic acid) to form a stable molecule. Unlike freebase nicotine (which is currently the standard in most tobacco stores), it is not bound to other elements.

What is benzoic acid? Benzoic acid sounds exciting, but it is also naturally present in many fruits such as berries, but also in yogurt and honey, for example. Benzoic acid is an organic element and is often used as an additive in foods, where it is referred to as E210.

Why nicotine salts? 
The addition of benzoic acid lowers the PH, making the e-liquid feel softer compared to nicotine in free form, which is often sharp on the throat and perceived as unpleasant. By adding benzoic acid, it is possible to smoke higher nicotine levels (20 mg) that do not feel sharp and unpleasant.

But that's not all: nicotine salts are absorbed more quickly by the blood. The nicotine absorption of nicotine salt e-liquid is similar to smoking a cigarette. This means that the chances of a successful switch as an alternative to conventional cigarettes are greater than with freebase nicotine. The nicotine is absorbed almost immediately, which means that the craving for a "nicotine hit" is satisfied more quickly.

At MIGO, we do not sell products to anyone under the age of 18. In addition, we definitely advise all people who are non-smokers, pregnant or breastfeeding and people with allergies to substances contained in e-cigarettes: are non-smokers* inside, pregnant or breastfeeding, as well as people with an allergy to substances that may be contained in e-cigarettes.
Can I use MIGO during pregnancy?

No, please don't! The effects of e-cigarettes and e-liquids during pregnancy have not yet been sufficiently studied.
SHIPPING & RETURNS
Do you have a question about: Order, delivery or return? 

Then you will probably find the answers on our shipping page - or who wants to know it exactly, then here in the FAQ.
When will my order be shipped?

All orders placed before 14:00 will be shipped the same business day! After shipping, you will receive an automatic confirmation with a link to track the shipment - so you can always see where your package is.

Shipping within Germany usually takes 1-2 days. In most cases, the packages are delivered faster, but unfortunately, we have no influence on some external factors.
When will I receive the delivery?

Once your order has been shipped and you have received the shipping confirmation, you can check the delivery status of your order using the tracking number.

Normally, your order will be delivered the next (business) day to the address you specified. Unfortunately, it can sometimes happen that the delivery takes a little longer due to the large rush at DHL.

If your order is not delivered as expected, please contact the delivery service (DHL) first. If an investigation needs to be initiated, please contact our MIGO SUPPORT team. We will be glad to help you!

Do I have to be home to accept my order?

Yes. The courier will ask for your ID to make sure you are of age and have placed the order.
Was passiert, wenn meine Bestellung an Migo zurückgeschickt wird?

Wenn ein Paket zurückgeschickt wird, weil Sie nicht zu Hause waren oder das Paket nicht rechtzeitig abgeholt haben, und wir das Paket in gutem Zustand in unserem Lager erhalten, erstatten wir Ihnen den Betrag, abzüglich der Versandkosten.

Was passiert, wenn meine Sendung aufgrund eines Fehlers des Kurierdienstes nicht ankommt?

Wenn eine Sendung aufgrund eines Fehlers des Kurierdienstes nicht ankommt, erhalten Sie nach Rücksendung des Pakets an unser Lager eine volle Rückerstattung oder ein neues Paket.
How much does shipping cost?

The flat rate shipping costs within Germany are as follows:

DHL (over 49,95 €) in Germany: FREE of charge

DHL (under 49,95 €) in Germany: 3,99 €

DHL (over 49,95 CH) in Switzerland: FREE of charge

DHL (under 49,95 CH) in Switzerland: 8,00 CH
How can I track my order?

All orders shipped by us are shipped with a tracking number. As soon as your order is shipped, you will automatically receive the tracking number by email. You simply enter it on the website of the delivery service (DHL) and can track the current status of your order at any time. 
Unfortunately, it is not possible to change your order. As soon as you have ordered, we will immediately get to work so that you get your new vapes as soon as possible.
I have not received an email with my shipment number.

Please check your spam mailbox first. We are surprised ourselves how often we find lost emails there. This happens especially with Office 365 email addresses (Outlook, Live and Hotmail).

Did you not find the delivery email there either? Then please contact us and we will find out for you what is going on and where the hell your order is : ) We can then also manually find out your shipment number and communicate.  

Unfortunately, sometimes something goes wrong, but we can fix it. Get in touch with us via our contact form, we'll check it out for you and find a good solution in any case.
How can I return my order?

This is possible in principle.

But to successfully return an order, the following conditions must be met. Your order is:

- Not yet unpacked from the original packaging
- Undamaged and unused. Your vape is still working when it is returned to us.
- You return your vape within 2 weeks of purchase.

Does your return request meet these criteria?

Then we will take your vape back and can either refund your money or gladly send you a replacement product. Please contact us with your return request and we will be happy to find a solution for you.

Return Form
PAYMENT & AGE VERIFICATION
There are several payment methods you can use to order from MIGO. However, it is important that you are of age - to verify this, we check your name and address against the Schufa database. According to the German Youth Protection Act, this is mandatory in Germany and happens automatically when you place your order. You can find more information on our page "Protection of minors".
What payment methods are available?

We offer the following payment options: SoFort, giroPay, PayPal (Visa & Mastercard through Paypal).
Will I receive an invoice?

Yes! Your order confirmation and invoice will be automatically emailed to you after purchase.
Are you checking to see if I'm of legal age?

Yes, you must be of legal age to place an order with MIGO. 

For this reason, we check every person who places an order with us against the SCHUFA database.

Alternatively, if you are not in the SCHUFA database, you can upload a picture of your ID/passport to show that you are of age.
Contact
ANSWER NOT FOUND? Write us!
Migo GMBH
Siemensstraße 31
47533 Kleve

WEEE-Reg.-Nr. DE 63186229
USt-IdNr: DE356905311
Registergericht Kleve, HRB 18416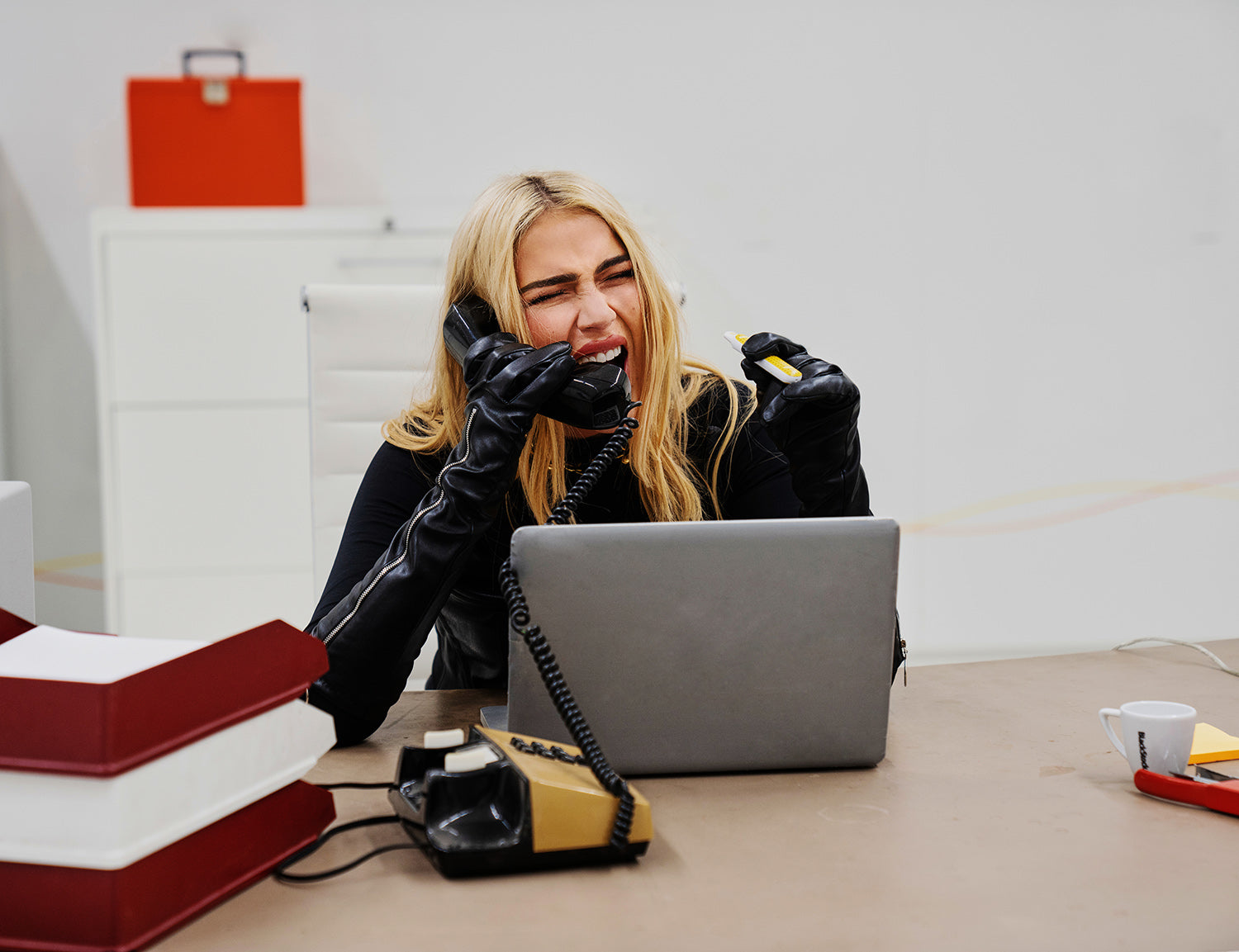 Bad mood? Stupid questions? Not feeling it?
We'd love to hear from you! Yes, really, but no need to shout.

You can write to us on WhatsApp.

The CUSTOMER SUPPORT team will solve all your problems (without making you cry).

Monday - Friday 10:00 - 18:00
WRITE US